Lighthouses were one of the primary inspirations behind Keeper Chronicles: Awakening.
The idea of braving storms and the dark to keep boaters safe has always seemed romantic to me. Why would people do this? What drove and motivated these keepers? Well, all things being equal, lighthouses themselves are beautiful enough to merit the sacrifice.
Many people don't think of Ohio as a hub for beautiful lighthouses, but we have our share of elegant, functional lighthouses both along the Ohio river and up north on Lake Erie.
Here are a few of my favorites!
1. This first lighthouse is near Cincinnati, though located right across the river in Kentucky, and I've driven by it every week since I was old enough to operate a motor vehicle. It's the Cincinnati Water Intake Lighthouse, and while it may not fit some classical ideals for lighthouses, it has it's own beauty with side tower and gorgeous red brick. And the chimney – very useful in our fickle winters!
2. This second lighthouse is also in Cincinnati, and is at the wonderful Coney Island. Now at an old entrance to the park, the light once guided entertainment ships safely to shore. Visitors can come to see the lighthouse but stay for the amusement park.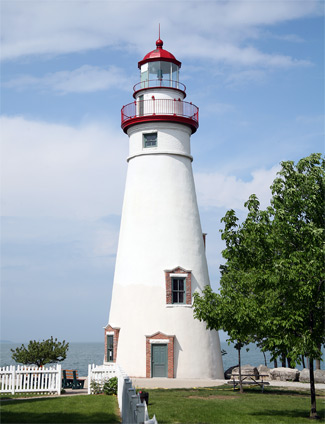 Marblehead Light, Marblehead, June 2010 Flickr Creative Commons photo by Joel Hageman
3. Heading further up north, Ohio shares a long shoreline with Lake Erie and because of this boasts many fantastic lighthouses. Probably the most famous is the Marblehead Lighthouse which is the oldest, continuously operating lighthouse in Ohio.  Built in 1821, it's had a rich history of important Keepers protecting the shoreline.
4. Fairport Harbor Breakwater is another fine specimen of a lighthouse, still on Lake Erie. The square, cast iron construction makes its appearance unique and allows the tower and keeper's house to withstand the harsh Lake Effect weather. Now in the hands of a private owner, it's being renovated and is occasionally open for tours.
5. The Toledo Harbor Light is another of my favorites. The Romanesque stonework in the graceful arches around the upper windows and along the walls is very beautiful. Accessible only by boat, the tower has a romantic view of the Lake Erie.  Cared for by the Toledo Harbor Lighthouse Preservation Society, the tower and house will stand guard for many years to come. It's especially beautiful in the winter months when the lake has frozen around it.